Kartu Pra kerja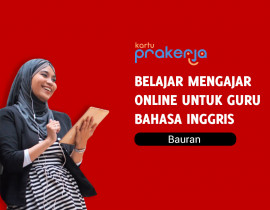 BELAJAR MENGAJAR ONLINE UNTUK SEORANG GURU BAHASA INGGRIS (BAURAN)
Be a teacher who is authentic, digitally trendy, and beloved by your students. By joining this class you will gain more skills such as selling courses, online class management, and digital literacy. You'll learn:
How to get more students and make them eager leaning online.

Transform your teaching style from conventional learning to online learning.

Using the updated platforms for online learning. 
Keep up with the technology for a better study.